The Binary Options Trading Strategy is Simple!
If you have been through the Forex Basics and Trading Strategies sections of this website then you should understand how to read price action in order to trade the daily chart. This is a method of trading that has been named WavEFX and is an extremely scaleable and customizable evidence based trading approach. The beautiful thing about it is that if you can learn this one approach, you can then trade it at any speed you like and there is nothing new to learn. That means from the daily chart right down to the tick chart! This method of price action trading is extremely effective and there is no need to repeat it here, go through the Forex Basics and Trading Strategies sections, then grab Free Membership and watch the free video course so that you can see it in action again but this time on the 4 hour chart. If you need further help then you may want to consider clicking here to upgrade your account to access everything you could possibly need.
The only real strategy differences with our binary options strategy is with the speed and in the numbers, it is important that you understand how the numbers are against you and how you could use them to your advantage. You should have an idea about that from the previous two lessons, in this lesson we need to address the speed.
Speeding up the WavEFX Strategy
From this point forth it is assumed that you have been through all of the free educational material here at ElectroFX. In order to speed up the WavEFX strategy it can be as simple as doing so via the standard chart time frames, or as complicated as using self-adjusting tick charts to emulate time frames but based off of current market volumes. That may sound like a mouthful but software makes it easy and this type of chart will be used for the following examples. Just keep in mind if I am talking about a self-adjusting 5 minute emulation tick chart, you can also use a standard 5 minute chart. It is through experience only that the self-adjusting tick chart has proven superior to a standard time frame chart for smoothness in the turns and entry triggers. Let's kick things off with an image.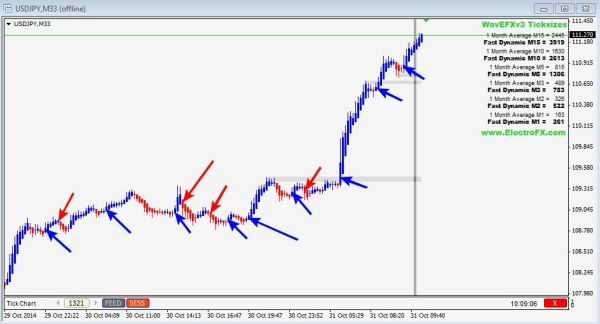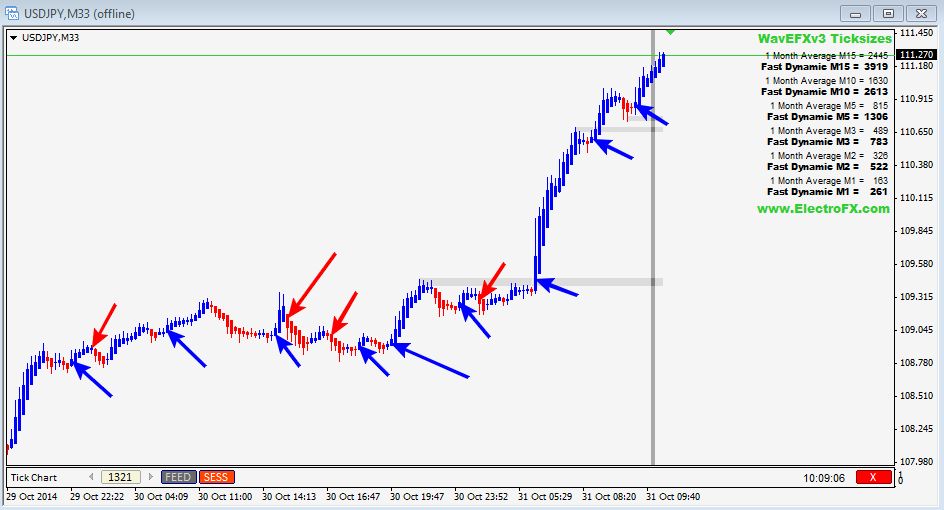 Basically all you need to do with Binary options is look for double taps and 3-point turns, trend continuation waves, and range breakouts. Keep your eye on the market structure and support or resistance areas, then you make a call or put as your entry trigger is breached in the correct direction. On the above chart all of the blue arrows are where you would make a call/up option, all of the red arrows are where you would make a put/down option. If none of these trades make sense to you then you have probably not yet been through the Forex Basics and Trading Strategies sections, or watched the Free Membership Video Course, in that order. If you need further help in understanding all of these evidence based trades then grab VIP membership. You will learn how to read price action and order flow and all of these trades will make total sense to you, the knowledge and skills will allow you to trade Binary Options or SpotFX or both!
Binary Options is All About Timing
Binary Options do have the advantage of easy to use trading interfaces and 1-click action but they have the disadvantage of time. The trade you are seeing may be correct, price may go exactly where you thought it would, yet if the timing is wrong you will still lose. If you wish to trade professionally it is highly recommended that you learn to trade SpotFX and enjoy no limits on the returns, plus no need to judge a trade AND how long it will take. Since Binary Options need this extra element of time you will need a strategy for that built in and the above chart is like an M5 chart. If you are using an M5 chart and you are expecting a wave of movement to happen that should be 2-3 candles, you should be trading 10-15 minute options. The self-adjusting tick chart used in the image above is very similar to an M5 chart but is based on the latest 2 hours of volumes. This helps you adapt with the market and stick mostly to 10 minute options during the day, if the market starts visibly moving much more violently you switch to 5 minute options, if the market slows down too much like it does during Asian session you should stop trading or move to 20-30 minute options instead.
30 Second Binary Options
The fastest you can possibly take this is down to 30-second Binary Options but it does introduce more rules. If you wanted to trade slower then the 5-15 minute Binary Options just discussed then you should really be learning how to trade SpotFX. There is no timing element to SpotFX, instead of that there are harder to use interfaces but they are well worth learning. Back to 30 second Binary options though where you now need to make certain that the pair you are trading has optimum volumes. This can be done by using a self-adjusting 30 second tick chart and will look no different than the chart above. It's just running at a much faster speed and you will find some videos later on in this course demonstrating it in real time.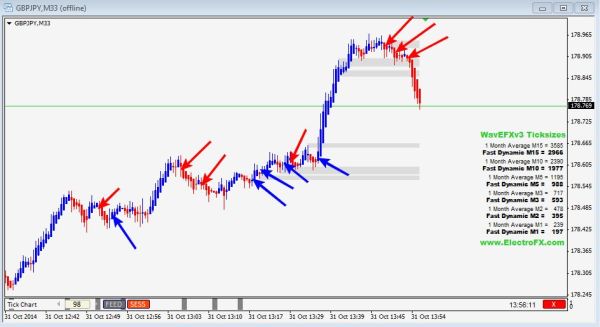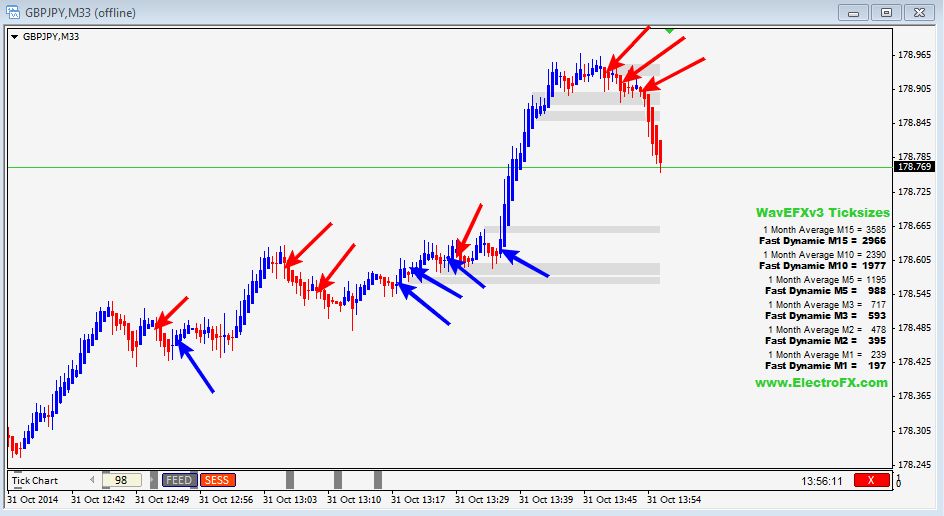 The blue arrows are where you would make a call/up option, all of the red arrows are where you would make a put/down option just like before. Only now you can only trade safely when the current volumes are near or above average. Each trade lasts 30 seconds which will be 1-3 bars on this self-adjusting 30 second tick chart if the volumes are meeting the rule. Part 2 of the Binary Options Strategy that follows will revisit the mathematical advantages you can give yourself on the Money Management side. These advantages can be applied to both speeds of Binary Options discussed here but are really essential to successful 30 second Binary Options trading, making them something to play around with only after you have mastered their slower counterparts.